Illumine enables large organizations to become 
future-ready
In a world that is evolving continuously at a rapid pace, the only way organizations can be future-ready is by making sustainable evolution as part of their DNA.
In the light of this, Illumine helps organizations re-architect their models of working and transit into "Future-Work Models". These include – i) new business models, ii) new customer and market engagement models, iii) new career models, iv) new work methods & practices, v) future-ready mindsets & cultural models, and most important, vi) enabling organizations to re-think purpose, not in terms of "vision statements" but as actualize-able models of the future.
Illumine's client list includes best-in-class industry leaders in Banking, Finance, Manufacturing, Projects, FMCG, Oil & Retailing.
A quick glimpse into
key projects

case 1
Enabling a large public sector bank in it's journey to become a modern, customer-focused bank
Challenge 
The Chairman wanted the bank to transform itself from an old, hierarchical, transaction-oriented government bank to a modern, customer focused bank.
However, it is particularly difficult to drive culture change in a public sector system where carrot & stick doesn't work. One, there is a security of life-long employment, and secondly, they don't have the monetary incentives of a private sector, to drive change in behaviors. The challenge was to awaken the sleeping giant to become customer centered.
Approach 
Illumine's approach was to enable the collective re-awaken to their deepest aspiration – being "citizen bankers to the nation" – thereby helping them find an intrinsic driver to serve customers better.
A four-phase interventional structure was designed by Illumine, so that the vision of Citizenship could be assimilated into the way the bank works at every level – both individual as well as collective.
Impact
This one-of-a-kind intervention took place over a period of 3 years, impacting 2,00,000 employees and the millions of customers they served.
It radically shifted the self-concept and identity of the bankers from being 'followers' of private sector banks to becoming 'leaders' with unique vision of their role & contributions.
This journey of transformation is published in a Harvard Business School Case Study and featured in the book Grit, Guts & Gumption: Driving change in a State-owned Giant.
Ex-Chairman Mr. O. P. Bhatt speaks about the Citizen SBI Story
"At the human and social capital level, I could see a new kind of energy burning across the bank. A new kind of willingness, wanting to do things, wanting to compete, wanting to be better, wanting to excel…
If Illumine had not helped us touch the soul and heart of people, what we did which was visible and measurable at the business and balance sheet level may not have happened."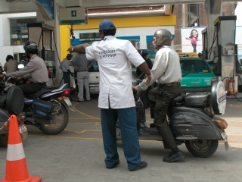 case 2
Transforming Customer and Market Engagement across the nation-wide retail network of a public sector oil giant
Challenge
In 2005, with the entry of private players into the oil market, national oil companies faced a steep drop in market share, unprecedented in the history of the industry. The challenge was to compete with these new players in an industry where the product itself is deeply commoditized.
Approach
Going beyond quantitative, infrastructural responses – of increasing the number of outlets in the network – Illumine's approach was to create differentiation at a service level by identifying "cognitive outcomes" through which competitive advantage could be built. Using this approach, a new set of purposive retail outlets with unique service models were built and scaled.
Impact
The initiative touched more than 1 lakh Driveway Salesmen, most of the 4000+ strong dealer network and all the staff of 66 Territories of the Retail business.
These service models led to a significant increase in sales in the outlets.
This approach was seen as a role model and was co-presented with the client team at the International Conference of the Society for Organizational Learning, Oman in 2008.

case 3
Enabling an insurance business to  re-design it's business model around sustainability and trust-engagement with customers
Challenge
The Insurance Industry has been plagued by a culture of short-term pressures, and push-based selling. Over time, this led to a trust deficit between sellers & buyers. As a result, it was becoming harder to sell products and it led to a steady erosion of role esteem in the insurance advisor community.
Approach
Illumine used a co-lab approach to build solution models to this challenge – involving a design team from Illumine & members of the insurance industry (from the client organization).
Through this Co-lab, Illumine designed a new business model – built on the foundation of creating 'trust surplus' with customers, focusing on sustainable success, as opposed to short-term success.
A three level design architecture enabled a high-level strategic intent to be translated into an operational business solution. This included new models for i) systematic & sustainable market creation, ii) counseling-based selling, iii) sustainable employee development and iv) distribution management.
Impact
At an individual level, the intervention brought back the pride in the role of an insurance advisor – from being 'pushy sellers' to being 'protection counselors'. Further, augmentation tools and capability building enabled them with the "how" to meet their targets without violating trust of the customer.
At a business level, they saw a significant growth in sales and a reduction in complaints.
At an organizational level, the initiative won an industry-level award for it's pioneering work in financial inclusion.
Ex-MD & CEO Mr. Pankaj Razdan speaks about his experience of working with Illumine in this project
"In terms of growth we are now growing at an average growth rate of 15-16% every quarter. And we have significantly moved up in all qualitative dimensions of the measuring the business – persistency, etc. We have transformed the idea of the business in the mind of the customer, this is because we were able to change the entire DNA of the business."